Introducing a NoSQL scoring framework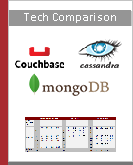 Even if you have years of experience with data-intensive apps, selecting a NoSQL data store for a particular case out of dozens of options may be a daunting task. The variety of databases goes way beyond sheer numbers, so you have to carefully compare and benchmark several options before you can choose the most appropriate solution.
To help companies select the best database based on particular use cases, workloads, or requirements, we decided to come up with a handy template for evaluating NoSQL solutions. While many other comparisons focus only on one or two dimensions, we compiled a scoring framework that approaches the databases from 20+ angles (including performance, scalability, availability, ease of installation, maintenance, data consistency, fault tolerance, replication, recovery, etc.).
As a real-life example of such an evaluation benchmark, today we present "The NoSQL Technical Comparison Report," which provides an in-depth analysis of the leading NoSQL systems: Cassandra (DataStax), MongoDB, and Couchbase Server. Each of the databases was scored on a scale from 1 to 10 across 21 criteria.
With 29 charts and 30 tables, this paper features a scoring template for evaluating and comparing NoSQL data stores for your particular use case—depending on the weight of each criterion. We also give recommendations on the best ways to configure, install, and use NoSQL databases depending on their specific features.
Want details? Watch a webinar!